Diesel Engines
Because of their efficiency and durability, diesel engines have become the standard in powering our nation's trucks and buses. Other heavy vehicles and mobile equipment, including bulldozers and cranes, also are powered by diesel engines, as are many commercial boats, passenger vehicles, pickups, and other work trucks. Diesel service technicians who service and repair these engines are commonly known as diesel mechanics.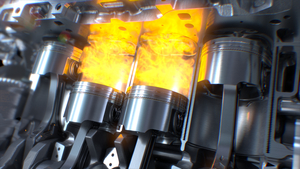 Diesel mechanics handle many kinds of repairs. They may work on a vehicle's electrical system, make major engine repairs, or retrofit engines with emission control systems to comply with pollution regulations.
Diesel engine maintenance is becoming increasingly complex as engines and other components use more electronic systems to control their operation. For example, fuel injection and engine timing systems rely heavily on microprocessors to maximize fuel efficiency. In most shops, workers often use hand-held or laptop computers to diagnose problems and adjust engine functions.
In addition to computerized diagnostic equipment, diesel mechanics use a variety of power and machine tools, such as pneumatic wrenches, lathes, grinding machines, and welding equipment. Handtools, including pliers, wrenches, and screwdrivers, are also commonly used.
Diesel service technicians and mechanics typically do the following:
Follow a checklist of inspection procedures
Test drive vehicles to diagnose malfunctions
Read and interpret diagnostic test results, often by using dials, gauges, and other computer equipment
Raise trucks, buses, and heavy parts or equipment by using hydraulic jacks or hoists
Inspect brake systems, steering mechanisms, transmissions, engines, and other parts of vehicles
Do routine maintenance, such as changing oil, checking batteries, and lubricating equipment and parts
Adjust and align wheels, tighten bolts and screws, and attach system components
Repair or replace malfunctioning components, parts, and other mechanical or electrical equipment
Disassemble and reassemble equipment and parts
Test drive vehicles to ensure that they run smoothly
Brakes
Suspension
Electrical
Cooling System
Tuffy Saginaw (Gratiot Rd.)
7975 Gratiot
Saginaw, MI 48609

989-781-0440